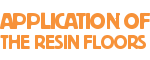 Global Equipment is the specialist of equipment, tools and accessories for application of the resin floors.
We propose permanently more than 1000 references of products for the application of the resin industrial, decorative or sporting floors.
Our team is at your disposal for all relative questions with the products, orders or deliveries.